Southern Orthopaedic Specialists
About the Practice
Treatment For a Wide Range of Orthopaedic Conditions
Southern Orthopaedic Specialists (SOS) specializes in diagnosing and treating joint pain and injuries in adults and children resulting from:
Sports-related injuries
Joint degeneration
Complex bone disease
Trauma
Fracture, nonunion
Delivering the Latest Advances in Orthopaedic Care
Accelerated rehabilitation after reconstructive knee ligament surgery allows better function and earlier return to sports.
New advances in reconstructive knee surgery can eliminate the need for uncomfortable braces.
Many shoulder, elbow, wrist, knee, and ankle procedures can be performed arthroscopically, which decreases postoperative pain and often improves recovery time.
New injections can improve knee arthritis symptoms without cortisone.
New materials used in total joint replacement can significantly extend the life of the artificial joint.
Expertise in Sports Medicine
SOS is among the best in the Greater Birmingham area at providing orthopaedic care for patients suffering from sports-related injuries. We augment our experience in the treatment of frequently encountered overuse and trauma-induced injuries with our understanding of more unusual and complex injury patterns. And as part of our comprehensive and personal approach to your care, every patient benefits from the most advanced techniques in arthroscopic and reconstructive surgery as well as receiving recommendations for physical therapy and training.
Learn More
About Your Surgeon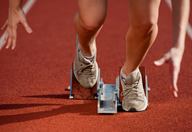 If you live in:
Gardendale
Bessemer
McCalla
Fairfield
Hueytown
Pleasant Grove
Leeds
Pell City
Talladega
Sylacauga
Jefferson County
Shelby County
Blount County
You are in range of Southern Orthopaedic Specialists.